5 ways to increase your property's curb appeal
Spring is here! Curb appeal is one of the most important things to consider when you are looking to rent out your income property. But as owners, we can sometimes become blind to some of the little things that our potential renters will notice.
These items can be pleasant surprises; however, for the most part, they are things that make the property look dated, uninviting or even scary to those who haven't had the opportunity to step in and see how beautiful the property may be inside.
We find this happens the most to owners who have recently renovated their property. They spend months and thousands of dollars renovating their unit to look beautiful, but then skip or leave the outside until last. This not only makes the renting of this unit a lot more difficult, you will also probably have to reduce your rent to compensate for the poor look of the exterior.
We've heard stories from tenants who had gone to look at a rental unit that were apparently fully renovated, but then they didn't even bother to get out of the car because the outside looked terrible.
So, whether you're doing a reno or just looking to spruce up your income property, here are five areas of curb appeal to consider improving to ensure your home looks as fresh and inviting as the inside does.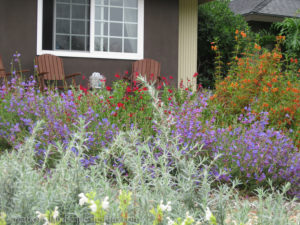 1. Gardens and flowers.
Everyone loves the look of fresh flowers and a few shrubs in the front of a house. The trick here is to buy shrubs and flowers that require as little maintenance and care as possible. The last thing you want is to have to tend to this garden every day.
Head to your local nursery and ask for flowers that are durable and others that come up on their own every year like tulips. Shrubs are usually pretty easy to care for, just make sure you don't buy one that needs to be trimmed or will grow so big it overtakes the front of the house.
2. Trim trees and shrubs.
All too often I come across a house that has a massively overgrown tree on the front lawn or bushes that make you wonder if there is even a house back there. Trimming back these trees and bushes will show the beauty of your property and make it much more inviting to others.
3. Paint.
Paint can go a long way to making an old house look new again. You don't need to paint the whole outside, although that is certainly an option. Most of the time just repainting old wooden-framed windows and doors white will help a lot. Also, if you have rusted railings, painting them black and cleaning them up will help a lot with the overall look of the house.
4. Walkways/curbing and grass.
The ground these perspective tenants walk on is just as important visually as the actual house. Making sure the walkways are clean, safe and level is very important. Broken up and cracked concrete walkways will make any house look cheap and uncared for.
Having a lawn that looks like an Arizona dustbowl won't work either. Tenants want a lawn and yard that is green, lush and appealing. So take the time to turn you patchy weed garden into the lawn every Canadian desires.
5. Scheduled maintenance.
Take the time yourself or have someone go by your property a few times a year to clean the gutters out, pick up random debris, power wash the driveway, maintain the gardens, etc. The goal is for your house to not look like a typical rental.
Your neighbours will love you, your tenants will appreciate the effort and you can drive by it with a sense of pride. Win, Win, Win.
Buying a house? Contact Kal-Mor Mortgages and Investments. Our mortgage brokers offer fast approvals and the lowest mortgage rates. Now serving Penticton, Kelowna, Vernon, Kamloops and Salmon Arm. 1-800-567-5511