Average Vancouver home now 12.5 per cent more expensive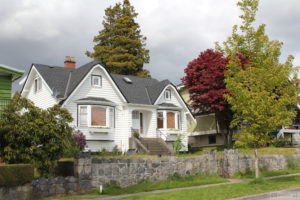 House prices in Vancouver have increased again with the average cost of a detached house rising 12.5 per cent in April to $1.08 million and the benchmark for a typical home now at $673,000.
The Real Estate Board of Greater Vancouver said Monday that a low level of listings has pushed prices higher; sales were up 37 per cent from April last year.
There are currently 12,436 listings on the MLS for Greater Vancouver, that's 0.5 per cent lower than March and 19.8 per cent lower than April last year; new listings are 0.9 per cent lower than last year.
The rising costs are also spreading to previously ignored parts of the city leading to bidding wars. Even properties that are in need of renovation are exceeding their expected sales price.
Those looking for bargains are being forced to look further out of the city with Fraser Valley and Surrey among the suburbs getting increased attention.
With mortgage rates staying highly competitive and the spring season underway realtors are expecting to be busy…if the homes are available to sell!
Buying a house? Contact Kal-Mor Mortgages and Investments. Our mortgage brokers offer fast approvals and the lowest mortgage rates. Now serving Penticton, Kelowna, Vernon, Kamloops and Salmon Arm. 1-800-567-5511